With the support of Yamaha Music Europe and the Fondation Singer-Polignac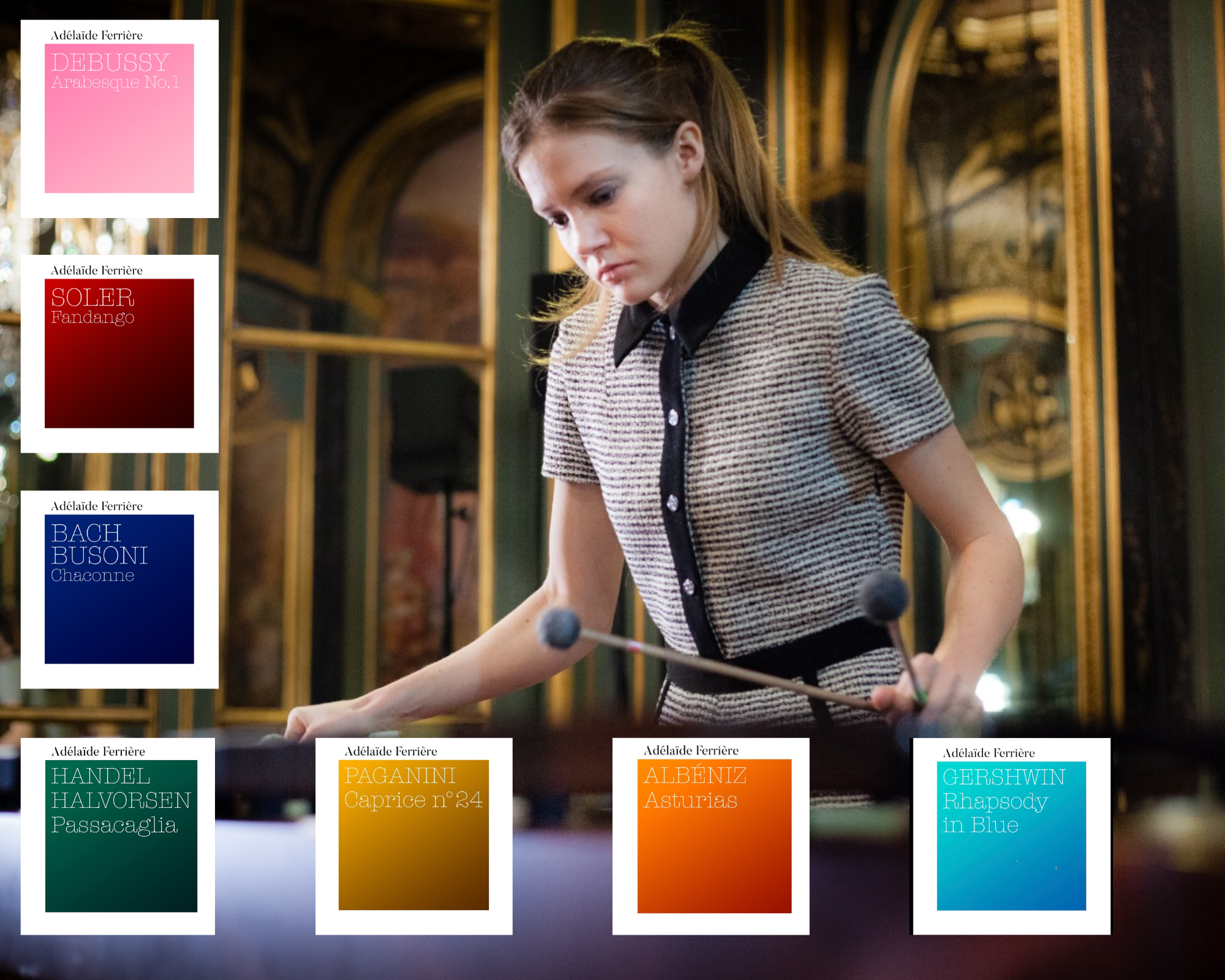 For her first recording, Adélaïde Ferrière sheds light on the contemporary percussion. As a remarkable percussionist, and nominated for a Victoire de la Musique award in 2017, she brings out the surprising features of her instruments for an album and a programme that perfectly suits her: radiant, powerful and striking.
Whether she chooses Xenakis or Hurel, Adélaïde Ferrière keeps displaying grace and a spectacular virtuosity: her playful performance is a delight, as much as it is an ode to rhythm and verve. Contemporary music is more alive than ever.
Ceux que l'on surnomme parfois avec dédain "les musiciens du rang du fond" sont aujourd'hui des acteurs majeurs en termes de création contemporaine. Adélaïde Ferrière est de ces percussionnistes qui ont permis à leur famille d'instruments de sortir de l'ornière. Du haut de ses 23 ans, la jeune femme ose pour son premier disque, un programme aussi envoûtant qu'exigeant (…) Saisissant
Elle se joue des difficultés de ces compositions, et nous force l'admiration. Cette jeune femme nous démontre comment ces musiques d'aujourd'hui sont extrêmement audibles et d'une vivacité réjouissante. Un must cet album.
Adélaïde Ferrière displays terrific skill and vibrancy in this impressive disc (…) This is an outstanding debut featuring bravura performances, an imaginative programme and crystal-clear recording quality throughout
The France Musique Choice
Adélaïde Ferrière shows with this program that she is much more than the young artist to discover(…) a magician
A programme given with impressive flair
The agility of a juggler, the energy of a wild beast (…) percussionist Adélaïde Ferrière has released a wonderful first album where she juggles with dexterity between Xenakis and Mantovani
Thought as a plea for contemporary creation and percussion, this disc could only be an invitation to discovery. It is much more thanks to the musicality and immense talent of a complete artist, capable of impressing and captivating
In this first album, the young percussionist Adélaïde Ferrière gives the measure of her gesture and the finesse of her musician ear
Adélaïde Ferrière's sparkling disc debut (…) Combining agility, dexterity and musicality with an acute mastery of color, she delivers a performance where virtuosity and poetry are one
Virtuoso dexterity, calculated impetuosity and stunning musicality(…) a success !
All along, Adélaïde is imperial, subjugating
L'album Contemporary d'Adélaïde Ferrière, nouveau visage de la percussion.
She shows a powerful sense of rhythm and melody, plays like a skilled juggler drums, bongos, marimba, congas, vibraphone and woodblocks where possible elegant and elsewhere with the required ferocity and verve
Letter of presentation of the percussionist Adélaïde Ferrière with one foot in contemporary musi (Xenakis, Hurel, Mantovani) and another ina style closer to the relaxed tone of the virtuous Evelyn Glennie (…) the Recital is heard with interest
Adélaïde Ferrière surprises us with this fusion that she has with percussion (…) A real treat for our ears
Who is able to do this ? I suspect nearly noone. What an ambition, energy and precision ! (…) Percussions played with an overwhelming virtuosity . Fascination from the beginning to the end
Le tout est très bien enregistré, à la bonne distance et ce programme varié est interprété avec grande virtuosité.
All In all, a beautiful album this debut with which this percussionist shows what she is capable of (…) This album is a new Milestone