"The young woman embodies the percussion arrival at the forefront of classical stage" (Le Figaro) "The stunning percussionist" (Télérama)" The future is on her side" (Classica) "Classical percussion star" (Radio Classique)  "A magician " (Le Monde) "An impressive flair" (The Times)
Laureate of fifteen international awards in France and abroad (France, Austria, the Netherlands, United States) Adelaide became the first percussionist ever to be designated Instrumental Soloist Revelation of the « 24èmes Victoires de la Musique Classique » ceremony.
The young soloist has performed on the stage of the Paris Philharmonie, Radio-France Auditorium, Théâtre des Champs-Élysées, Paris Opera, la Comédie Française, Salzburg Mozarteum , London National Portrait Gallery , Luxembourg Philharmonie, Epidaurus Theater, with the Paris Chamber Orchestra, Swiss Romande musicians , Latvian Chamber Orchestra, Young Colombian Symphonic Orchestra, l'Orchestre Dijon Bourgogne , l'Orchestre Victor Hugo Franche-Comté …
She is the guest of festivals such as the Festival Présences (Paris), Printemps des Arts (Monte-Carlo), Variations Musicales de Tannay (Switzerland), New Music Festival (Dublin ), Musica Nova (Germany), MITO Festival (Milan & Turin), PAS International Convention (USA, Denmark, Colombia) …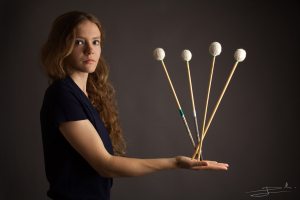 Her concerts and master classes have taken her to England, Germany, Austria, Brazil, China, Colombia, Denmark, United States, Greece, Ireland, Italy, Latvia, Lithuania, Luxembourg, Netherlands, Czech Republic, Switzerland. ..
Born into a family of musicians, Adélaïde began learning piano and percussion in Dijon before joining the Conservatoire National Supérieur de Musique et de Danse de Paris at the age of 15. She graduated her Master degree with highest honors 5 years later and also studied  at the London Royal College of Music.
In 2018, the musician joined the KDM Trio alongside accordionist Anthony Millet and percussionists Gilles Durot and Aurélien Gignoux and founded the Xenakis Trio, in residence at Fondation Singer-Polignac with percussionists Emmanuel Jacquet and Rodolphe Théry.
Adélaïde Ferrière has participated in many world premieres, and worked with composers such as Thierry Escaich, Martin Matalon, Philippe Hurel, Alexandros Markeas, John Palmer, John Psathas …
Her debut album « Contemporary » released by Evidence Classics in 2020 is in partnership with France Musique, selected by « Le Monde » and received 4 **** BBC Music Magazine.
Adélaïde Ferrière is a Yamaha and Black Swamp Percussions Artist and is supported by the Adami and Safran Foundations as well as Engelberts Swiss Foundation for Arts and Culture.